The Nelson Mandela Foundation, in partnership with NorthStar Memorial Group and the California chapter of the National Association for the Advancement of Colored People (NAACP), have announced the launch of a multifaceted effort to support the late-2016 unveiling of a human rights memorial honoring the life and legacy of civil rights icon, Nelson Mandela.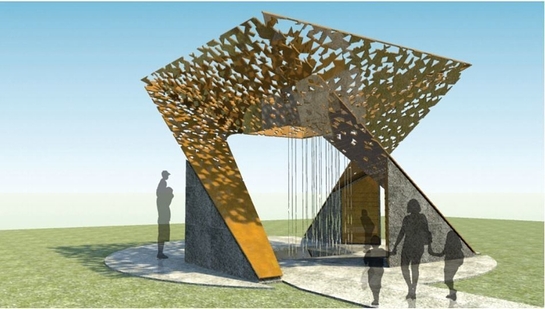 Rendering of the winning human rights memorial honoring the late Nelson Mandela
The 15-foot-tall monument is under construction at Skylawn Memorial Park in San Mateo. People can support the construction efforts by either 1) purchasing one of 1,000 personalized granite bricks which forms the walkway leading up to the memorial or 2) donating to a crowdfunding campaign. NorthStar will match all funds raised before May 31, up to $100,000.
Watch a video about the campaign to help raise funds for the monument.
"Everyone has heard of Mandela, but many younger people don't know why he's such an iconic figure – or even that he has strong ties to the Bay Area," said Alice A. Huffman, president of the California NAACP. "We hope this campaign, as well as the memorial itself, will further human rights conversations."
Granite Pavers Benefit Mandela Memorial Plus Charity
NorthStar is forming the monument's walkway with granite pavers that can be purchased and personalized with anything from inspirational messages to memorial tributes. Each paver costs $500; $200 of that goes directly to a charity such as the Nelson Mandela Foundation or the California NAACP, while $300 directly benefits the memorial's construction efforts. To reserve a granite paver, visit www.nelsonmandelamemorial.com.
Mandela Memorial Crowdfunding Campaign
Those who wish to further support the memorial may also contribute to a crowdfunding campaign. The goal is to raise $100,000; NorthStar is matching all funds raised through the campaign by May 31. To participate, please visit www.nelsonmandelamemorial.causevox.com.